About Ride 2 Recovery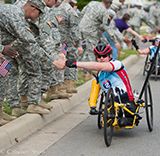 Ride 2 Recovery is a nonprofit dedicated to providing FREE recovery, rehabilitation and reintegration services for injured veterans. There are hundreds of thousands of veterans who suffer from various wounds, whether visible or not. Our groundbreaking, cycling-based programs have proven results improving the mental and physical health and wellness of our healing heroes and saving lives by restoring hope and purpose.
For more information about Ride 2 Recovery, please visit www.ride2recovery.com.