SUPPORT JERRY'S RIDE WITH JERRY LACHANCE!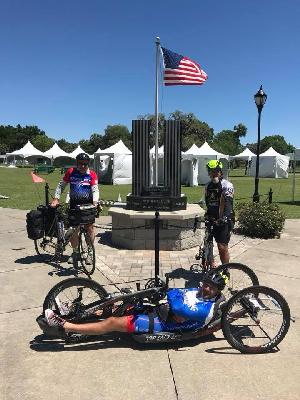 Project Hero is proud to partner with Jerry Lachance, a 70 year old volunteer firefighter from New Hampshire, for Jerry's Ride. Starting in Miami, Florida on April 9, Jerry will ride north along the eastern coast all the way to the Canadian border, arriving on May 20th. Jerry completed nearly this same ride in 2016, but in reverse, starting at the Canadian border and ending in Key West, all while raising more than $25,000!
This year, Jerry's goal is to raise more than $25,000 for Project Hero!
Jerry will be bicycling the entire route and with the support of his hometown Sandown Firemen's Association, will be making overnight stays at fire houses in communities along the way.
"I want to do more to help my wounded and disabled brothers and sisters recover," he said. "Please help me to raise money to aid their recovery process."
Please make your contribution to Jerry's Ride today!

View More
Fundraising Honor Roll
Elite First Aid, Inc.
$1,000
COMPANY Zorvino Winery Event Donations
$505
H.O.P.Sales & Service
$500
Katie Lachance-Duffy & Greg Duffy
$500
COMPANY Vigilant Hose Co
$500
COMPANY Ernest R Brown Construction LLC
$500
Traynor Glass Co.,Inc.
$500
Nancy @ Zorvino's Winery
$277
Kevin and Molly Higham
$275
Gary and Mary Marlow
$250
David Paul & Davin Wedel
$250
Terry & Elaine Towle
$250
Nam Knights of America, Seacoast Chapter
$250
Tax Services of Londonderry
$250
Cross Creek Cycling Club C4
$250
COMPANY Sandown Volunteer Firemans Association
$200
Company Bean Town Coffee House
$114
Sue and Gordon McElroy
$100
Martha and Donald Stockman
$100
Paul & Debbie D'Amore
$100
Charlene Barton and Ken Kelly
$100
COMPANY Network For Good
$100
Hampstead Health & Fitness
$100
Germaine & Blaszka, P.A.
$100
Playmates Learning Center
$100
COMPANY Richmond Hill Volunteer Fire Dept
$100
Melissa & Sport Allen
$100
Hans & Dawn Nicolaisen
$100
For more information about Project Hero's life-saving veteran programs, check out their website.
If you think this page contains objectionable content, please inform the system administrator.